Posts Tagged: IGIS
With the ever-changing world of technology and knowledge we have a need to get this information out to the public in a timely manner. One of the new tools that we can use are Storymaps from ESRI. These web based application combine text and maps into an intuitive and interactive experience. For more information about storymaps please go to the esri storymap website.
We at IGIS have helped build several storymaps for different groups within University of California – Agriculture and Natural Resources Division (UCANR). These story maps have covered topics ranging from the issue of conifer encroachment in the oak woodlands of northern California to information about the UCANR Research and Extension Centers (RECS). These different sites can be viewed at the following sites:
In the coming months we will be offering training opportunities that will highlight these tools and how to build storymaps that can highlight your work. To build storymaps you will need an ArcGIS Online account. If you are part of the UCANR network please fill out the following form and we will help you get an account so that you can start building these storymaps yourself.
/table>
Hot on the heels of a very successful three-day DroneCamp workshop, IGIS has launched a new email list for people interested in using drones for mapping and data collection.
Drone Mapping California is a moderated email list intended to share news, information, and questions about using drones for mapping and data collection. That covers a lot - technology, training, regulations, hardware, software, analytical techniques, etc. We hope this list will be a channel through which new and seasoned drone operators and researchers can share and grow their knowledge and expertise.
The list has a California focus, but all are welcome. If you are interested in collecting data with drones, please subscribe here! IGIS will administer the list for the foreseeable future, including moderating messages to prevent spam, but we are always open to comments and suggestions.
Top: Matrice 100 with dual RGB and multispectral sensors
Bottom: mNDGI image of a field at Desert Research and Extension Center
Photos by Sean Hogan
Today was a great day at the ESRI User conference. I attended several sessions covering the use of raster and vector data in big data analyses, the use of python and r for data science, and the use of arcpy to create and modify maps in ArcGIS Pro.
Speaking of big data and arcgis, over the past 5 years I have watched ESRI develop their software from a desktop environment to a distributed computer platform capable of analyzing millions of spatial features in minutes and hours instead of days or weeks. These tools are now accessible to the average users of arcgis without the need to understand the underlying big data frameworks and software. We now have the ability to install tools such as GeoAnalytics Server, the Spatial Temporal Datastore, and ArcGIS Pro and take advantage of big data analytics within ArcGIS Pro. By using these tools we do not have to know how to setup and manage tools like apache spark, elasticsearch, or other tools.
The above tools are used to store and analyze vector data. To analyze multidimensional rasters, we have the ability to use mosaic datasets to store and analyze multiple raster datasets and multiple raster formats. Over the past years I underestimated the capability and the utility of mosaic datasets. These datasets have the ability to calculate custom raster functions on the fly. These datasets can also be shared via ArcGIS Server and ArcGIS Online. I look forward to utilizing the datasets in the future.
One thing to note at the ESRI User Conference is that like last year all of the presentations that I have seen by ESRI staff this year have been on ArcGIS Pro. The ArcGIS Pro software is getting more powerful and ESRI is building more functionality into this new software platform.
I cannot wait to see what day 4 brings tomorrow.
Of all the technical session and talks I went to today the topic that was the most exciting was the "ArcGIS Maps for Adobe Creative Cloud". The plugin for Adobe Creative Cloud is a bridge between ArcGIS and Adobe Illustrator and Photoshop. This plugin allows cartographers and graphics designers to import vector and raster data directly from ArcGIS Online and from shapefiles into Illustrator and Photoshop. Once these data are in Illustrator and Photoshop the data can be manipulated and styled using the native tools in Illustrator and Photoshop.
This tool fills a need that cartographers have wanted filled for many years. I foresee these tools as being very important to allow graphics designers within our organization to extend the spatial data that we have created to publications and other materials that UCANR produce.
To download and start using these tools you will need access to Adobe Creative Cloud https://exchange.adobe.com/addons/products/16913 and an ArcGIS for Organizations account http://www.arcgis.com. If you are a member of the UCANR network and do not have access to ArcGIS Online fill out the following form and we will help you gain access to the ArcGIS Online http://igis.ucanr.edu/resources/esri_software/.
Notes and stray thoughts:
More to Come Tomorrow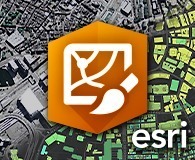 Last week we enjoyed attending the CalGIS 2017 conference in Oakland. This year the meeting was co-hosted with LocationCon, so it was larger than usual and had a good mix of participants from government, non-profits, academic and consulting companies. As expected there were a lot of people from California, but we also met a lot of people from other parts of the US.
The first day of the conference was devoted to workshops, and IGIS gave a half-day version of our workshop on drone technology and data analysis. This was well attended, and one of several sessions focused on drone technology. For us, this was also more preparation for our upcoming Dronecamp at the end of July.
The following day, Andy gave a presentation on some of the issues for scaling up drone capacity within a specific institutional setting like ANR. We discussed some of the issues we've been dealing with, including matching the scale of the data to the scale of science and management questions, outreach and training, regulatory compliance, and tailoring off-the-shelf technology for specific applications and contexts. The Q&A period highlighted a number of common challenges facing many organizations striving to take advantage of drone technology. One of the most common needs is developing institutional level policies to ensure safety and compliance with a dynamic array of federal, state, and local regulations. This discussion reminded us how fortunate ANR is to be backed by the UC Center of Excellence on Unmanned Aircraft System Safety, because many local agencies and public utilities are still trying to figure it out.
Another common theme that came up was management of the massive amount of data that drones can collect, and how to share and find drone data. Managing drone data is challenging because of the sheer volume of data. This makes many traditional strategies platforms unworkable and even cloud based solutions difficult to use because of long transfer times. Like many programs, we started managing drone data by adapting existing tools and established practices from other fields like GIS and remote sensing, which we have been refining as we learn more and as our drone service program grows to include more people and projects. We recently started documenting our data management system in a recent Tech Note (more about that in an upcoming blog), and are currently exploring a new online platform for dissemination in collaboration with ESRI (stay tuned for more info about that also). What became clear at the conference however is that the tools and platforms for drone data management are still catching up, and we have a long way to go before we can reach the capabilities of portals for more traditional GIS data, such as the State of CA Geoportal or even the National Map.
Other highlights from the conference were the many excellent talks, including presentations on using drones to create a very precise digital elevation model of a wetland restoration site, techniques for machine learning classification of aerial imagery, and the US Forest Service's system-wide database called EDW. We also heard about some of the exciting new features of Cal-Adapt, including an API that will dramatically simplify the process of creating decision support tools and other applications that require downscaled climate forecasts. Many of the presentations are available through the conference website, all of which are well worth checking out.