Posts Tagged: IGIS
Of all the technical session and talks I went to today the topic that was the most exciting was the "ArcGIS Maps for Adobe Creative Cloud". The plugin for Adobe Creative Cloud is a bridge between ArcGIS and Adobe Illustrator and Photoshop. This plugin allows cartographers and graphics designers to import vector and raster data directly from ArcGIS Online and from shapefiles into Illustrator and Photoshop. Once these data are in Illustrator and Photoshop the data can be manipulated and styled using the native tools in Illustrator and Photoshop.
This tool fills a need that cartographers have wanted filled for many years. I foresee these tools as being very important to allow graphics designers within our organization to extend the spatial data that we have created to publications and other materials that UCANR produce.
To download and start using these tools you will need access to Adobe Creative Cloud https://exchange.adobe.com/addons/products/16913 and an ArcGIS for Organizations account http://www.arcgis.com. If you are a member of the UCANR network and do not have access to ArcGIS Online fill out the following form and we will help you gain access to the ArcGIS Online http://igis.ucanr.edu/resources/esri_software/.
Notes and stray thoughts:
More to Come Tomorrow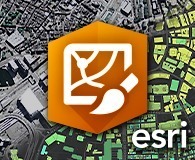 Last week we enjoyed attending the CalGIS 2017 conference in Oakland. This year the meeting was co-hosted with LocationCon, so it was larger than usual and had a good mix of participants from government, non-profits, academic and consulting companies. As expected there were a lot of people from California, but we also met a lot of people from other parts of the US.
The first day of the conference was devoted to workshops, and IGIS gave a half-day version of our workshop on drone technology and data analysis. This was well attended, and one of several sessions focused on drone technology. For us, this was also more preparation for our upcoming Dronecamp at the end of July.
The following day, Andy gave a presentation on some of the issues for scaling up drone capacity within a specific institutional setting like ANR. We discussed some of the issues we've been dealing with, including matching the scale of the data to the scale of science and management questions, outreach and training, regulatory compliance, and tailoring off-the-shelf technology for specific applications and contexts. The Q&A period highlighted a number of common challenges facing many organizations striving to take advantage of drone technology. One of the most common needs is developing institutional level policies to ensure safety and compliance with a dynamic array of federal, state, and local regulations. This discussion reminded us how fortunate ANR is to be backed by the UC Center of Excellence on Unmanned Aircraft System Safety, because many local agencies and public utilities are still trying to figure it out.
Another common theme that came up was management of the massive amount of data that drones can collect, and how to share and find drone data. Managing drone data is challenging because of the sheer volume of data. This makes many traditional strategies platforms unworkable and even cloud based solutions difficult to use because of long transfer times. Like many programs, we started managing drone data by adapting existing tools and established practices from other fields like GIS and remote sensing, which we have been refining as we learn more and as our drone service program grows to include more people and projects. We recently started documenting our data management system in a recent Tech Note (more about that in an upcoming blog), and are currently exploring a new online platform for dissemination in collaboration with ESRI (stay tuned for more info about that also). What became clear at the conference however is that the tools and platforms for drone data management are still catching up, and we have a long way to go before we can reach the capabilities of portals for more traditional GIS data, such as the State of CA Geoportal or even the National Map.
Other highlights from the conference were the many excellent talks, including presentations on using drones to create a very precise digital elevation model of a wetland restoration site, techniques for machine learning classification of aerial imagery, and the US Forest Service's system-wide database called EDW. We also heard about some of the exciting new features of Cal-Adapt, including an API that will dramatically simplify the process of creating decision support tools and other applications that require downscaled climate forecasts. Many of the presentations are available through the conference website, all of which are well worth checking out.
A
s part of our mission to test drone technology and provide mapping services to the ANR community, IGIS recently completed data collection for our largest drone mapping project to date - 3600 acres of the Mojave Desert.
The drone data will be used to create fine resolution vegetation and elevation maps, as part of a desert tortoise research project led by Dr. Brian Todd in the Dept. of Wildlife, Fish, and Conservation Biology at UC Davis. The study seeks to better understand how the threatened desert tortoise navigates in its landscape, which will help biologists and land managers responsible for protecting the desert tortoise make management decisions, such as where to place road fences that don't cut off important resources for this long-lived species. Researchers on this project track the tortoises with GPS and temperature sensors, which they will now be able to overlay on the highly detailed maps of the desert generated from the drone imagery.
How does the desert look to a tortoise?
A Large Study Area
The study area is approximately 3600 acres, which is extremely large for a drone. We mapped the area in two trips in 2016 and 2017, with significant improvements to our mapping methods in between.
Sean Hogan
mapped the first 1200 acres using a 3DR Solo drone flying a consumer grade GoPro camera. GoPro cameras work surprisingly well for making 3D topographic models, thanks to their high resolution, wide field of view, and rapid shutter rate. Hogan programmed the drone to fly a lawnmower pattern with a lot of overlap between images, so every point on the ground is captured in multiple images taken from different angles. The stitching software uses photogrammetric algorithms to recreate the surface geometry, producing a 3D model of the topography.
The Solo+GoPro combo worked well, but the flight time of the Solo, its mediocre GPS receiver, and the lack of an integrated GPS module in the GoPro were limiting factors that required more time for both flying and processing the data.
New Drone Platform for 2017
Andy Lyons
, as well as new equipment and almost a year's worth of additional flight experience. For this campaign we flew our new DJI Matrice 100; a larger drone that can carry two batteries for longer flight times. Hogan also modified the bottom of the Matrice, outfitting it with an additional camera mount, so we were able to fly with a high quality RGB camera as well as the Parrot Sequoia multispectral camera. The combination worked brilliantly, allowing us to capture both high quality RGB images for the 3D surface model, as well as multispectral images for vegetation analysis during each flight. After a day of working out kinks with the cameras and software, we were able to reliably fly eight 100-acre flights per day with minimal downtime between each consecutive mission. Flying at 400 feet, the resolution of the resulting maps will be about 2.25 inches for the RGB orthomosaic and digital elevation model (DEM), and about 4.5 inches for the multispectral products.
Lessons Learned
Some lessons learned for mapping large areas include:
Mapping large areas with a quadcopter is viable with careful planning
The Matrice 100 is large enough has enough power to fly 100 acre flights with two cameras on board with two batteries and calm winds
Heat can dramatically reduce flight time because the air is thinner and equipment less efficient
Checking your data in the field and having backup plans for weather and equipment glitches are essential
Having two or more people on the flight crew helps tremendously
Developing individual mission plans before going to the field reduces time between flights and hence illumination differences between adjacent areas
The dessert tortoise is a charismatic creature with amazing adaptations, and a great curiosity about the research equipment we were setting up alongside the road:
I was honored last week to be a presenter at the AmericaView Winter Business Meeting, in Reston Virginia, as representative of the CaliforniaView section of this nationwide consortium of remote sensing scientists. AmericaView shares many of the same interests as the IGIS program, such as applied remote sensing research, outreach, education, workforce development and technology transfer. At this particular meeting of over 50 remote sensing experts, I spoke about some of the ways that the University of California is using drones to advance environmental and agricultural research; including the use of automated photogrammetry for elevation modeling, thermal imagery for water use efficiency, multispectral cameras for monitoring post-fire vegetation recovery, Lidar for tree structure modeling, and hyperspectral scanners for invasive pest detection.
While my presentation and participation at the AmericaView meeting went very well, the highlight of my trip was being invited to Capitol Hill to meet with California Congressman Ami Bera, and staffers for Senator Diane Feinstein and Congressman Paul Cook. The objective of these meetings was to advance awareness for the importance of remote sensing resources, such as the USGS's provision of data from the Landsat satellite missions. In particular, our meeting with Dr. Ami Bera went fantastic. He is such a great and knowledgeable supporter of the scientific outreach we at the UC Division of Agriculture and Natural Resources undertake, and understands the importance supporting the scientific infrastructure that many of us rely on for our research and educational efforts.
Left to right – Pia Van Benthem, Dr. Ami Bera, myself, and Dr. Susan Ustin
March was busy month for the IGIS team. We started out with only one member of our group (Sean Hogan) being a FAA certified drone pilot, and ended the month with the rest of the team - Maggi, Shane, Robert, and Andy - having also obtained their FAA Remote Pilot License with sUAS Rating.
A FAA remote pilot license is required to fly drones legally for any non-recreational purpose (which includes basically everything we use drones for in ANR and UC). The 'hard' part of obtaining your drone pilot certificate is passing a 60 question FAA Airman General Knowledge exam, which covers a broad range of topics related to the safe and legal operation of drones in the national airspace. Our efforts to get certified were propelled forward by an excellent FAA exam prep-class offered in early March by UC Merced Extension, and taught by Andreas Anderson, a long-term pilot and graduate of the UC Merced MESA lab.
Our programmatic goal in getting more certified drone pilots is to help serve the growing demand for drone services in the Division, including both flying missions and training. Flying safely and legally however is only the start. Using drones effectively as data collection platforms for research and extension takes a host of other skills and knowledge, including mission planning, flight operations, using the equipment, data management, and select principles of photogrammetry and remote sensing. This is why we encourage everyone in ANR interested in using UAVs for their research or extension programs to attend one of our Drone workshops, such as the upcoming workshops at Kearney REC (April 13-14), UC Berkeley (Apr 2 ), Quincy (June 7-8), or our three-day Dronecamp at the end of July (application deadline April 15, 2017). Need some inspiration how drones might be useful in your work? Check out the current issue of Cal Ag which features a number of applications of drone science for agriculture and natural resources.