Posts Tagged: ESRI User Conference 2017
Today was a great day at the ESRI User conference. I attended several sessions covering the use of raster and vector data in big data analyses, the use of python and r for data science, and the use of arcpy to create and modify maps in ArcGIS Pro.
Speaking of big data and arcgis, over the past 5 years I have watched ESRI develop their software from a desktop environment to a distributed computer platform capable of analyzing millions of spatial features in minutes and hours instead of days or weeks. These tools are now accessible to the average users of arcgis without the need to understand the underlying big data frameworks and software. We now have the ability to install tools such as GeoAnalytics Server, the Spatial Temporal Datastore, and ArcGIS Pro and take advantage of big data analytics within ArcGIS Pro. By using these tools we do not have to know how to setup and manage tools like apache spark, elasticsearch, or other tools.
The above tools are used to store and analyze vector data. To analyze multidimensional rasters, we have the ability to use mosaic datasets to store and analyze multiple raster datasets and multiple raster formats. Over the past years I underestimated the capability and the utility of mosaic datasets. These datasets have the ability to calculate custom raster functions on the fly. These datasets can also be shared via ArcGIS Server and ArcGIS Online. I look forward to utilizing the datasets in the future.
One thing to note at the ESRI User Conference is that like last year all of the presentations that I have seen by ESRI staff this year have been on ArcGIS Pro. The ArcGIS Pro software is getting more powerful and ESRI is building more functionality into this new software platform.
I cannot wait to see what day 4 brings tomorrow.
Of all the technical session and talks I went to today the topic that was the most exciting was the "ArcGIS Maps for Adobe Creative Cloud". The plugin for Adobe Creative Cloud is a bridge between ArcGIS and Adobe Illustrator and Photoshop. This plugin allows cartographers and graphics designers to import vector and raster data directly from ArcGIS Online and from shapefiles into Illustrator and Photoshop. Once these data are in Illustrator and Photoshop the data can be manipulated and styled using the native tools in Illustrator and Photoshop.
This tool fills a need that cartographers have wanted filled for many years. I foresee these tools as being very important to allow graphics designers within our organization to extend the spatial data that we have created to publications and other materials that UCANR produce.
To download and start using these tools you will need access to Adobe Creative Cloud https://exchange.adobe.com/addons/products/16913 and an ArcGIS for Organizations account http://www.arcgis.com. If you are a member of the UCANR network and do not have access to ArcGIS Online fill out the following form and we will help you gain access to the ArcGIS Online http://igis.ucanr.edu/resources/esri_software/.
Notes and stray thoughts:
More to Come Tomorrow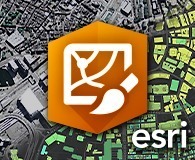 It's that time again! The worlds largest GIS User Conference has returned for its 38th year and the first two days have been jam packed with content. This is my fourth time attending, and I'm always a bit surprised by how much the conference seems to have grown every time I come down. This year's attendance is around 16,000 people and it shows! The halls of the San Diego convention center are filled with an unbelievable human tide and I've been in a couple of sessions that were standing room only.
The first day's plenary session was quite a production as usual, but was lacking in the type of big announcements of new software or major updates that have been the norm in years past. Highlights included a look at how Disney Imagineers developed the city of Zootopia using Esri's CityEngine software and a thought-provoking keynote address from Dr. Geoffrey West about the growth cycles of biological organisms and their links to the development of urban areas.
Some highlights from Day 2 included a session on the continued integration of Python and R into the ArcGIS Desktop environment, particularly ArcGIS Pro. The closest thing I've seen to a major announcement so far is that raster support is coming to the R-ArcGIS Bridge with the release of ArcGIS Pro 2.1. I also atteneded a session on Esri's Drone2Map software which looks like a simplified version of Pix4D which has been very nicely integrated with ArcGIS Pro. I think the biggest takeaway from these first days has been that I really need to start seriously working on migrating to ArcGIS Pro!
I look forward to what's in store for the rest of the week. Stay tuned for more updates!